San Diego, CA – Paul Espinosa and the Media Arts Center San Diego are proud to announce the successful completion of an online fundraising campaign on Kickstarter. The campaign succeeded in raising over $40,000 to finish "Singing My Way to Freedom," a feature length film on Ramon "Chunky" Sanchez, a Chicano musician and San Diego activist whose music has been a force for social justice over the last 35 years.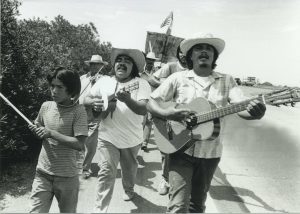 Active in San Diego since the 1960s, Chunky won a National Heritage Fellowship in 2013 from the National Endowment of the Arts which recognizes our nation's best traditional artists for their efforts in conserving America's culture for future generations.
One of Chunky's most significant influences was Cesar Chavez and the United Farm Worker's movement. As a young man, Chunky joined the picket lines in the fields, demanding justice and better wages for farmworkers. Through his experiences, Chunky discovered that music could be a powerful weapon in creating social change and overcoming prejudice and racism.
"Singing My Way to Freedom" chronicles Chunky's life from his humble beginnings as a farmworker in Blythe, California to his student days at San Diego State University as the Chicano Civil Rights Movement was transforming the community; from his involvement with the takeover of Chicano Park to his performing on Joan Baez's first Spanish language album; from an iconic photo of him crossing the border fence in Tijuana to his popular performances at Adams Avenue Street Fairs; from the formation of his band, Los Alacranes, a local favorite at San Diego demonstrations and rallies for over a quarter of a century, to receiving the National Heritage Fellowship at the Library of Congress in Washington DC.
Despite the major social transformations that occurred in San Diego during the Civil Rights movement of the 1960s and 70s, much of that history is scarcely known today, particularly the contributions made by young Chicanos. A portrait of one charismatic musician and activist allows us to revisit this pivotal era of American history and to provoke dialogue about the many hurdles that had to be overcome to gain equal rights for Latinos in today's society.
"Our film examines how Chunky's personal development as a musician is interwoven with the broader history of the U.S.-Mexican border, from the 1960s right through to immigrant rights' protests happening today," says Producer Paul Espinosa. "We mounted an online campaign to secure the final funds to complete the film."
Kickstarter is a tool for anyone in the creative world to gather the support needed for their projects. Kickstarter's platform allows filmmakers and others to share their project with the vast Internet community. "Folks pledged at different levels and received great rewards as a thank you for their support," says Producer Paul Espinosa.
Chunky's music was included in a classic Smithsonian Folkways CD that highlights songs of the Chicano movement. A reviewer described the collection as "an original and necessary document of essential American musical history."
The film is being produced and directed by Paul Espinosa (The Lemon Grove Incident, …and the earth did not swallow him, The Hunt for Pancho Villa, The U.S.-Mexican War). Mark Day (The San Patricios) and Michael Bovee (Liquid Stage) are also producers on the film.